Piles Treatment in Gurgaon
---
In this section:
---
Facts on Piles
Out of every four, three people have developed piles at some duration in their lives.
Women are more likely to get hemorrhoids in preganancy
Sitting continuously for longer periods can cause piles
With advancements in medical science, pain-free surgical and non-surgical treatments have come up making it easy for both the patients and doctors to treat Piles. Dr. Mir Asif holds proficient skills and experience in giving the best Piles treatment in Delhi NCR India.
You are in right place, here at Mirascare, under Dr. Mir Asif Rehman, Specialist general and Laparoscopic Surgeon & Proctologist in Gurugram, Haryana provides you the best possible solution for your piles conditions.
---
What are Piles?
The rectum is the end part of the large intestine that further ends up by attaching to the anus (opening at the end of the digestive tract from which stools passes out of the body). Which in addition of many other structures contain anal cushions. Anal cushions inside the Anal canal are generally positioned at 3,7 & 11 o clock.
The functions of these cushions are to maintain anal continence and passage of stools they differentiate between passage of gas and stools. Piles medically termed as Haemorrhoids are swollen veins in the anus. There are two types of Haemorrhoids/Piles which can be classified as internal piles and external.
---
What are the types of piles?
Internal Piles:
Internal piles occur inside the lower rectum which eventually may protrude or prolapse out through the alimentary canal. Most prolapsed Hemorrhoids shrinks back and travel inside the rectum on their own. This type of piles can't be seen with naked eyes but they may infrequently or continuously cause uneasiness even while sitting.
During the bowel movement when straining happens it might harm the lump and can lead to bleeding while sometimes it can push internal hemorrhoid out through the anal opening. Internal piles can result in unbearable pain and uncontrollable irritation and in rare cases, these Hemorrhoids/Piles may protrude permanently outside the rectum and require urgent surgical treatment.
| Piles Grade | Description | Symptoms | Description |
| --- | --- | --- | --- |
| Grade-I | Piles are in internal canal. There is no protrusion | Bleeding | Grade I piles can be treated by medicines & ointments. |
| Grade-II | Piles are in internal canal and it usually slid down with every bowel movement | Irritation and bleeding may occur | Grade II piles can be treated by medicines & ointments. |
| Grade-III | The hemorrhoid may protrude past the anal verge. Stage III piles requires the patient to push them inside manually. | Increased irritation, bleeding. And protrusion of mass during defecation | Surgery |
| Grade-IV | The internal hemorrhoid is always protruded or prolapsed and is at risk for thrombosis and can't be pushed back. | Itching, bleeding and pain may occur | Surgery |
---
What are the Stages?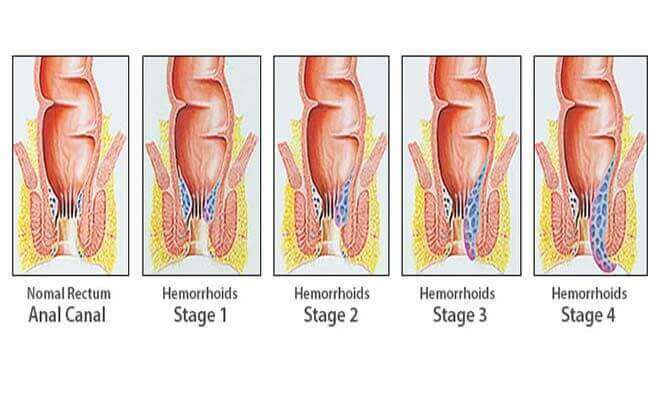 External Piles:
This type of piles is formed under the skin around the anus that causes itchiness, irritation and sometimes bleeding while passing stools. External haemorrhoids can cause severe pain, swelling and inflammation if blood gets clotted in these vessels. Clotted piles usually leads to unbearable pain and discomfort, the blood clot can be removed with surgical treatments to relieve the symptoms.
---
What are the symptoms?
The Hallmark symptom with internal Haemorrhoids condition is painless bleeding while passing stools. Blood usually is bright red and appears in drops. Prolapsed Hemorrhoids usually cause extreme pain, discomfort, and anal itching during excretion whereas piles that are not prolapsed are not usually painful.
The symptoms such as itching and irritation may occur with excessive straining, rubbing, or cleaning around the anus and may get worse over times. These symptoms may go away after a few days while some people may never have symptoms but suffer from piles.
---
What are the risk factors?
Piles are caused because of swelling in the anal or rectal veins, which could be caused because of the following reasons:
Genetical factor
Being human (as piles is not seen in any four-legged animals)
Weight gain or being overweight
Insufficient fibre in the diet plan
Prolonged sitting on a toilet seat
Chronic constipation or diarrhoea
Insufficient intake of water
Heavyweight lifting
Lack of exercise
Straining while passing stools
Increasing age
Pregnancy
Hypothyroidism
Weak connective tissues in the rectum and anal canal
---
How to diagnose?
Patient's medical history gives clues about the pertinent condition.
Physical examination of rectum and anal canal.
Techniques such as Anoscopy/Proctoscopy or colonoscopy can be used for diagnosis.
How can Piles be prevented?
Eating food containing high-fiber:( oranges, oatmeal, Lentils, and Broccoli).
Daily exercise.
Drinking around 7 to 8 glass of water daily.
Avoiding tea, coffee and cold drinks.
Stopping smoking and avoiding alcohol.
---
Who are the eligible candidates for treatment?
Patients who are diagnosed with grade II, III and IV hemorrhoidal disease require treatment from experts in treating haemorrhoids/piles. These grades of piles could be characterized by some of the symptoms such as bleeding along with stool or on toilet paper, anal lumps, itching, occasional pain with intermittent prolapse of internal haemorrhoids/piles.
Hemorrhoids (piles) care at Mirascare Multispeciality Clinic
Your Mirascare Clinic Healthcare team
Specialists in proctology work with other medical professionals, as needed, to diagnose and treat your hemorrhoids aka Piles.
Choose Advanced diagnosis and treatment
Proctologist at Mirascare Clinic offer the most advanced treatment options, including stapler haemorrhoidectomy and advanced laser techniques for hemorrhoid removal.
---
What are the treatment options?
Surgical Treatment:
Stapled hemorrhoidopexy
Staples haemorrhidopexy/PPH employs a unique circular stapler which reduces the degree of prolapse by excising a circumferential strip of mucosa from the proximal anal canal. This has the effect of pulling the hemorrhoidal cushions back up into their normal anatomical position. Usually, the patient will be under Spinal/general anaesthesia.
Laser Hemorrhoid Ablation and Laser Hemorrhoidoplasty
In present times, emphasis is on painless and minimally invasive procedures. At MirasCare we treat piles and related issues with highly advanced Diode LASER 1470 nm technology which provides relatively painless and highly effective treatment for the Haemorrhoidal disease.
Benefits of Laser Piles Treatment
Laser Piles Operation is the most advanced Piles Treatment.
Minimal bleeding so low risk & faster recovery.
As only they culprit tissues are targeted and normal tissues are speared leading to faster recovery and less complications
Laser Piles gives more precision to treat the Piles.
It is an FDA approved treatment by the American Medical Council.
Minimal Pain post Surgery for you.
Negligible recurrence
Non-surgical Treatments
At Mirascare, our specialists will take a proper history do a physical examination and confirm whether the patient is having hemorrhoids and accordingly recommend effective treatments.
Piles of grade-1 and grade-II can be treated effectively with the use of medicines. Dr. Mir Asif Rahman, one-of-the best doctor of Gurgaon provides various treatment options for piles starting with a change in diet plan and life style modifications.
Dr. Mir Asif focusses on the addition of fiber-rich food items in the diet and consuming adequate fluid in a complete day. In case these modifications in the diet of the patient do not eliminate symptoms, then he goes with medical therapy which includes ointments and creams. The recommendation with the treatment includes avoiding intake of any non-steroidal anti-inflammatory drugs (NSAIDs) and spicy or fatty foods.
---
Why Choose Mirascare Clinic for Laser Piles Surgery in Delhi NCR Haryana?
At Mirascare Clinic and Centre, we provide piles treatment with the latest and the most advanced Laser Hemorrhoid Ablation and Laser Hemorrhoidoplasty. Surgery performed under Expert Laser Specialist and Proctologist for Hemorrhoids/Piles of grade II and III that have not come on the stage of complication.
Our Piles Surgeons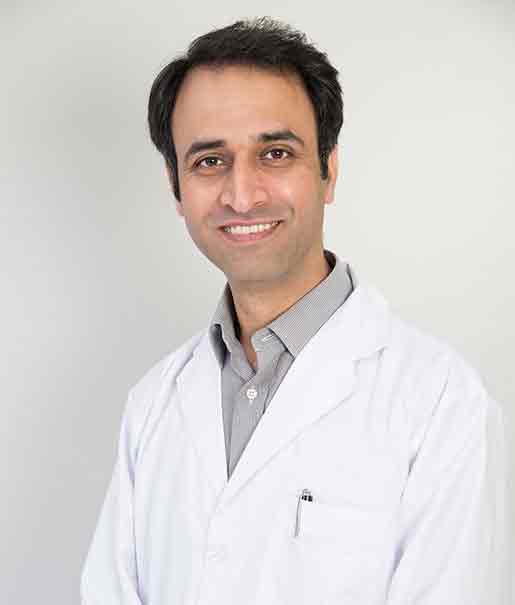 DNB - General Surgery
General and Laparoscopic Surgeon & Proctologist
Book Consultation
M.B.B.S, M.S (General Surgery), F.I.A.G.E.S, F.A.L.S
General and Laparoscopic Surgeon & Proctologist
Book Consultation
At Mirascare we are equipped with the Diode Laser 1470nm 15W and which is the most latest & advanced Laser Hemorrhoids Treatment in the world currently.
Our Surgeon Dr. Mir Asif Rehman and Dr Lalmalsawma Ralte a Piles Specialist Doctor in Gurgaon and Delhi has undergone an extensive training internationally on this advnaced laser techniques.
Surgical Process is almost painless.
There are no incisions
No sutures, open wounds and bleeding;
Very Less complications that occur with this advanced techniques
Return to daily activities is possible after a very short time; Very fast recovery compare to old Open Surgery.
We understand and believe that the Patient Care for Piles Surgery better than anyone else.
No waiting time, Book an appointment Now with our specialist surgeon and book your day of Treatment at the earliest.
Cost of the Piles Treatment is Comparatively less and the treatment is very effective.
---
What is the course of the laser procedure?
The laser procedure is carried under anesthesia using minimal incisions near the anal (2-3 mm in diameter) LHP is performed by using NeoV laser where its fiber optical thread produces a radial laser beam towards the target tissue. These beams cause a fibrous reaction in the inner cells of hemorrhoidal vessels and inside the connective tissues of the rectum and anal.
This procedure lessens all symptoms and discomforts (pain, bleeding) that are caused due to Hemorrhoids/Piles
---
How long the patient takes to recover after surgery?
As this treatment for piles includes minimal invasiveness and minimal postoperative pain, so it takes couples of days for the patient to retain his normal lifestyle.
See What our Patient Saying about his Piles Surgery Experience
---
What is the cost of piles surgery in Gurgaon Delhi NCR?
The cost will differ in accordance with the procedure and the general state of the patient.We will consider all these factors while consulting and estimate the cost if needed. piles/haemmroids Treatment cost depends upon the surgeon's experience, procedure opted and the hospital Location. Surgery cost will include ;
Hospital or surgical facility costs
Surgeon's fee
Medical tests
Anesthesia fees (general or local)
Piles/Hemorrhoids Laser treatment cost in Gurgaon Haryana ranges from 45,000 to 1.5 lakh. These cost varies based on daycare or hospital stay opted as above mentioned points. Talk to to our specialist at Mirascare Clinic Gurgaon Delhi ncr to determine the final cost.
---
Insurance for hemorrhoids treatment
Mirascare Clinic works with number of insurance companies for a smoother patient experience.
In most cases, Mirascare Clinic doesn't require a physician referral. Some insurers require referrals, or may have additional requirements for certain medical care. All appointments are prioritized on the basis of medical need.
We will help you in verifying medical coverage if you have any and help you to obtain any needed authorization prior to your procedure.
Note : Most of the health insurance policies cover piles/bawaseer procedures, so confirm in advance.
---
What preventive measures are to be followed by the patient after surgery?
The doctor will prescribe a painkiller to ease the discomfort after Hemorrhoid surgery. The recovery after the surgery takes 4-5 days and with the following points, it can be done within less time:
Sitz bath: Soaking the anal area in a few inches of warm water several times a day
Using a stool softener to avoid straining during bowel movements.
Add a fiber-rich food in the diet plan
Focus on weight loss.
Adopting a regular exercise program
Drink around 8-10 glasses of water in a day keeping yourself hydrated.
Avoid any kind of activities that involve heavy lifting or pulling.
Usually, no dressings are required.
Expertise and rankings
Mirascare Clinic surgeons are highly experienced in treating piles, including the most complicated. Surgeon at Mirascare Clinic treat several hundred people for hemorrhoidal problems each year.
Mirscare Clinic in Gurugram, Haryana India, ranks No. 1 for benign proctology disorders in India.
---
Locations & travel for Piles Treatment in India
Mirascare Clinic is based in Sector 51, Gurugram Haryana.
For more information on visiting Mirascare Clinic, choose your location below:
Book an Appointment Now