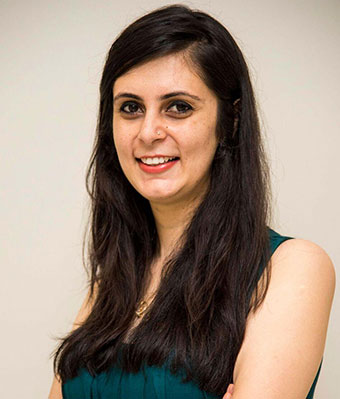 Mrs. Tamanna Chauhan
MA - Psychology
Consultant Therapist & Psychologist
6 Years Experience Overall (6 years as specialist)
I am a qualified Psychotherapist who strives to offer short and long term psychotherapy to adults and young people on an individual basis. I work with people suffering from difficulties including depression, anxiety, low self-esteem, negative childhood experiences and work related issues inter alia.
The decision to seek therapy is conventionally a bewildering one, but once taken, it marks the inception of a commitment to care for one's self which may subsequently be fostered into one's work until one feels fully equipped to meet their dilemmas and anxieties with better understanding, maturity and greater ease.
It is my belief that every individual needs to be handled differently as there is no recipe for living that suits all cases. With that mindset, I enjoy providing authentic, compassionate, tailored and insightful support to my clients as they sail through life's challenges, and personally believe, that our past influences our present but it need not dictate our future. Our life experiences, both — positive and negative, are building blocks that lie at the bedrock of who we are today and can further be constructive instruments for becoming who we aspire to become tomorrow.
A good therapeutic relationship, I believe, is when a person feels comfortable in finding new ways of being and exploring emotions and feelings that had long been buried into the deepest trenches of their cognition, allowing one to have a fuller experience in their relationships and a richer, more thoughtful perception of the world. Lasting and constructive change becomes possible when our faculties — physical and mental — perceive new experiences in their entirety. Gradually, the self's opinionated rigid beliefs about one's own persona and the world around oneself can be replaced with new ones, allowing more liberation and contentment in life.
My work is client-centred. I like to meet people where they are on their path to growth and work with them to get what they need out of therapy. I seek to support and facilitate the client's journey as they discover more about their hidden realities than the apparent self.
My keen commitment to my own personal growth and professional development is supported through ongoing personal psychotherapy, supervision and therapy groups, and various workshops, courses and training. I eagerly look forward to help you discover yourself and achieve fulfilment in life, for — you are not what happened to you, you are what you choose to become.
Area of Expertise
Abandonment
Abortion or post abortion issues
Addictions and compulsions
Adjusting to change or life transitions
Anger
Anxiety
Attachment issues
Breakup
Bullying
Codependency or dependency
Communication problems
Compulsive spending / shopping
Depression
Eating and food issues
Emotional abuse
Emotional overwhelm
Emptiness
Family of origin issues
Family problems
Fear
Grief, loss, and bereavement
Individuation
Irritability
Isolation
Jealousy
Life purpose or meaning or inner-guidance
Midlife crisis or midlife transition
Mood swings or mood disturbance
Post traumatic stress or trauma
Relationships and marriage
Rejection
Self actualisation
Self care
Self compassion
Self confidence
Self criticism
Self doubt
Self esteem
Self harm
Sensitivity to criticism
Shame
Social anxiety or phobia
Stress
Suicidal ideation
Trust issues
Workplace issues
Worry
Worthlessness
Young adult issues
Age group of patients
Work Experience
Currently at Mirascare
Consultant at uphi surgical centre, Gurugram
Pathways World School, Aravali
Ridge Valley School, Gurugram
Fortis Memorial Research Institution, Gurugram
Lakshyam - Hands To Heart (Ngo)
Educational qualification
The lawrence school, sanawar, H.P
Bachelors of arts, delhi university, delhi
Masters of arts in psychology, bangor university, wales, UK
Philosophy of care
"on the day you were born, you had all the inherent strength, goodness and wisdom you would ever need. All you needed were the skills to access it." "laurel mellin"
I am a therapist who believes in the power of therapeutic relationship to help uncover the resources each individual possess to bring about desired growth. My greatest reward as a therapist is helping my clients explore ways to make the change in their lives that will allow them to look forward to the future with hope. I am very passionate, dedicated and a curios person who takes keen interest in knowing my client's to be able to understand their thought process and with help of therapy we could heal the wound with cultivating the right seeds.